Time to Galapa-Go!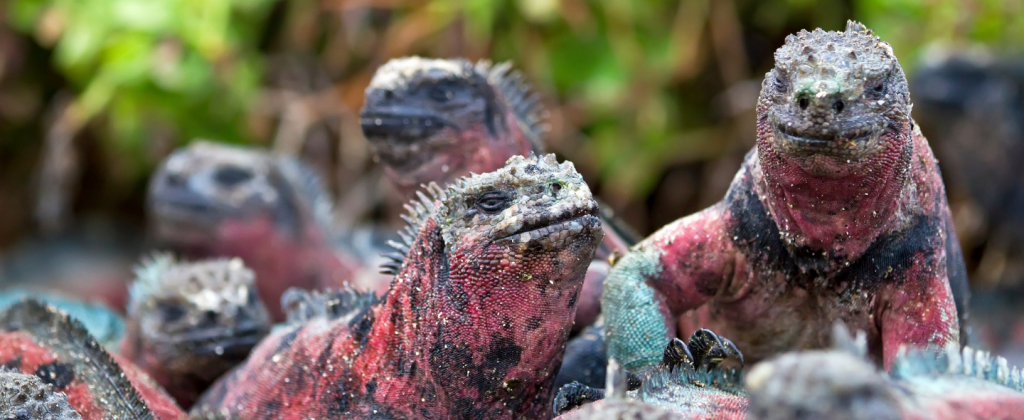 The wildlife of Galápagos is legendary for its lack of an instinctive fear of humans. Sea lions loll on the beach next to you. Birds land on your camera lenses and stand in the middle of the trail ignoring you as you carefully walk around them. As you contemplate or photograph giant tortoises to your heart's content, they graze on, undisturbed. Being able to get so close to such rare and wild creatures is a privilege, enchanting, and unforgettable.
Due to its equatorial temperatures, Galápagos is a place where wildlife is always active. Migrating birds visit. Endemic birds court, mate, and raise their young. Giant tortoises move from the lowlands to the highlands, sea turtles bury their eggs on the beach or swim in the sea. Entertaining sea lions and blue-footed boobies are often present and delightful. No matter when you're considering a Galápagos cruise, you can rest assured that the wildlife will be plentiful and active.
Galápagos is famous for its endemic wildlife—animals separated from their main population and adapted to their environment, eventually changing to become a new species. There are as many as 26 endemic species among the islands including Darwin's finches, Galápagos giant tortoises, marine iguanas, and Galápagos penguins. This is the only place on earth you can see these animals in their natural habitat.
Ship-based Galápagos wildlife travel lets you experience all the endless magic of Galápagos' diverse habitats: from lush green highlands to stark volcanic landscapes; pristine beaches to mangrove thickets; from arid terrain to black lava beaches adorned with emerald seagrasses. Walk, kayak, snorkel, and stand-up paddleboard. Head off on a scenic cruise aboard a Zodiac landing craft, or in the glass-bottom boat. Take a long hike or choose a short slower walk, with time for your naturalist to share the unique wonders of a particular island.
Lindblad Expeditions have been leading expeditions to Galápagos for 50 years. Since 1967, they have played an active role in Galápagos conservation initiatives, working in conjunction with the Galápagos National Park, the Charles Darwin Research Station, local NGOs, and committed community groups. A core group of naturalists work exclusively for Lindblad-National Geographic, providing a continuity of in-depth knowledge, and their generous naturalists-to-guest ratio means more diversity of personalities and insights for you. Trained at National Geographic headquarters in Washington D.C., their skilled onboard photo instructors are there to help you make the most of your daily encounters with the wildlife. Want to know more about Lindblad National Geographic? Click here
Always dreamed of seeing polar bears? Read our Arctic blog