Warm Up and Chill Out in Central Vietnam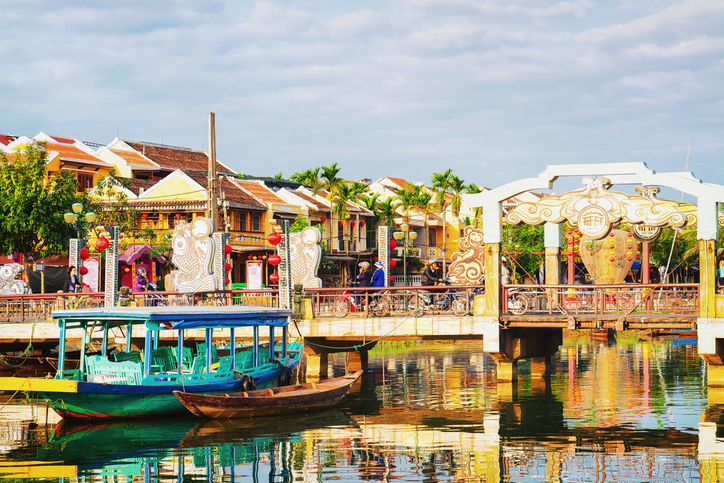 During our winter, Southern Vietnam is too cold, and the North is too hot which leaves the central area the perfect temperature and option for a winter getaway.
I recently returned from a week in Hoi An and easily could've stayed longer. There is so much to do, but it's also the perfect place to escape. I stayed at the Anantara Hoi An Resort; a colonial style property on the river with a lovely pool area for relaxing. The staff were wonderful, and the rooms very spacious and low rise – which is perfect for families. Buffet breakfast also featured local dishes like Pho soup, Banh Mi, or noodles, for those loving their Vietnamese options.
We borrowed the complimentary bikes from the hotel and rode the 6kms out to the beach, it was a beautiful flat ride past rice paddies and local life. The beach itself was clean and had plenty of food options around. The hotel offers a shuttle service out to the beach for lunch, they took us to the Salt Pub which has great food as well as beach club facilities during the day. There are great grassy grounds for kids to run around, as well as lounges and umbrellas on the beach.
Hoi An is known for its lanterns so the hotel offers lessons on making them a few times a week which was a fun experience, and you get to take home your handicraft. If you are in town for the full moon, then the lantern festival is a must. The local's light lanterns and float them in the river, it's a beautiful sight.
Everyone loves Vietnamese food so cooking classes and market tours are really popular. Ms Vys Market Restaurant is well known, and she offers cooking classes as well as a wonderful cooking tour experience of the marketplace. This is great with younger kids. You get the opportunity to learn from the experts how to make dumplings, banh mi, noodles, pancakes, and rice paper rolls and then get the opportunity to make your own and eat them. It's very reasonably priced and a very interactive way to enjoy your lunch.
Hoi An is rich in history so a walking tour of the old town is definitely worthwhile. You can wander the streets for hours watching local life. The market, restaurants, and shops are open all day and into the night so the streets are always alive with tourists and locals.
Hoi An is easily accessible through the airport of Da Nang, with a 45-minute transfer to the town. This is a really different experience to some of the more frequented Asian holiday destinations but certainly worth it for a week away. For those with more time it is definitely worth exploring more of this amazing country and including Hoi An as part of your trip.
Discover more Winter Escapes HERE