Air New Zealand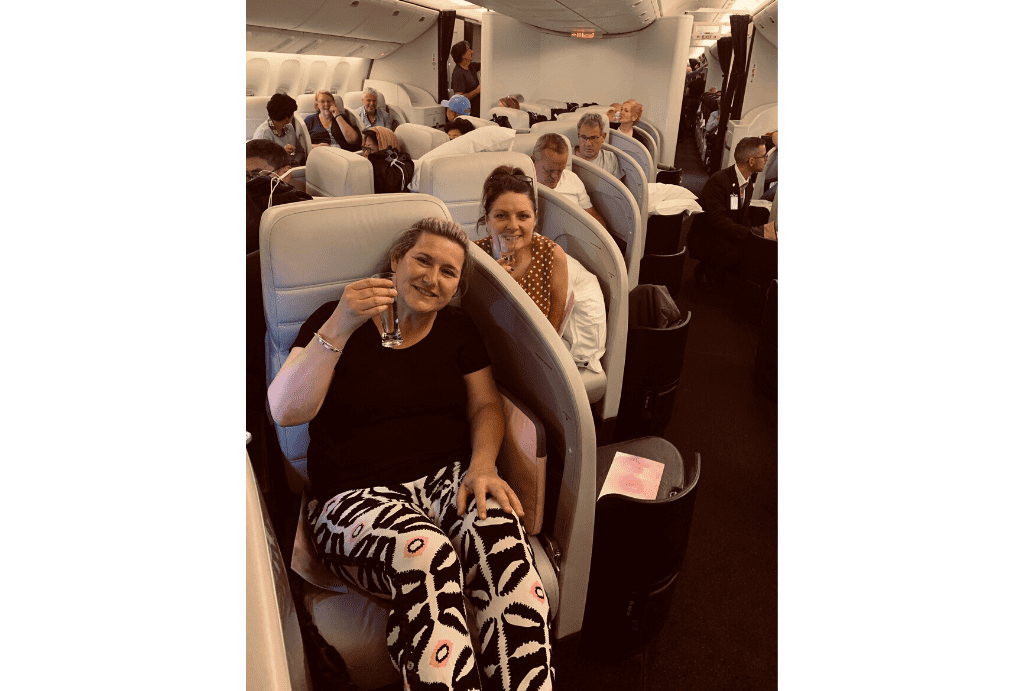 There was excitement as our little group arrived at the airport to embark on our journey to Antarctica. As a travel agent, we are constantly critiquing every step of the journey, looking for tips, experiencing new products and of course reviewing what we sell our clients every day. This was my first experience flying Air New Zealand, an airline well known for its trans-Tasman shuttles. The last few years with the introduction of 'Dave the Goose', they have educated the Australian traveler to their less obvious routes of the East Coast of the USA, Hawaii, the Pacific Islands and the flight we are taking to Buenos Aires, Argentina.
With the special airfares available at Emma Whiting Travel, we took the opportunity to fly business class. What a treat. The check-in process was seamless. Skipping the lengthy lines, we were checked in, given boarding passes, a lounge invitation and documents to fast track our way through security and immigration. After our quick journey through the boring part of traveling we arrived at the new Air New Zealand lounge where we had access to an array of foods and drinks, free Wi-Fi, papers and a comfy lounge chair to await our boarding.
Our excitement mounted as our flight was called, we were on our way. We walked to the gate and were ushered through to the shorter priority line and onto the plane. The business class section was a herring bone shape, each seat its own little cocoon. The footrest is a little seat so you can have a guest to join you for dinner if you like, most of our group were too engrossed in the wide range of entertainment to seek company. The cabin crew were so personable, greeting us with their national greeting of "Kia Ora" as we boarded. They took the time to introduce themselves offering us a glass of New Zealand sparkling wine. The entire wine list is sourced locally from New Zealand, so fine wines all the way. We settled back, listened to their entertaining safety video they are renowned for, and taxied down the runway. Our short stop was in Auckland. The airport is compact. Don't forget to drop into Whittaker's chocolates for the traditional peanut slab on your way to the lounge. After a coffee and a freshen up we were ready to board again and on our way to Buenos Aires.
Settled into our seats we are ready for take-off. Once in the air our cabin crew took our order from the extensive and delicious food menu, far too many choices. They then returned with snacks and a cocktail before serving us our 4-course gourmet lunch. Not only is this a lovely way to pass the time, it really does enhance the experience of traveling. It makes it part of the holiday instead of it starting when you arrive at your destination. After lunch the lights were dimmed for those who wanted to sleep. Your beds are controlled to lie completely flat and doona and pillows provided. So comfortable, and you can still watch your movie until you drift off. It certainly helps with the jetlag when you arrive the next morning.
I took the opportunity to have a look at their premium economy cabin, lots of space and reclining seats. The price point is often not much higher than economy so always worth discussing with your travel designer. In economy they have a unique offering called a Skycouch. This enables the 3 seats in a row to be converted into a couch that butts up against the seat in front so you can lie down, which is great for kids or families. This is only a little extra on the fare and must be purchased in advance, once again speak to us next time you are flying, and we can give you all the options.
I was so impressed with Air New Zealand, the product itself, their sustainability philosophies, their warm and personable service, reliability, food and drink offerings and the support they give us as travel agents to help look after our clients.
They have and are increasing their services to include Chicago, Houston, and New York as well as partnering with other carriers for seamless connections to so many destinations in North, Central and South America. This, with their amazing fares offered through our agency will give everyone an opportunity to experience the true New Zealand hospitality.
Emma