A WA Adventure, Including Quokkas!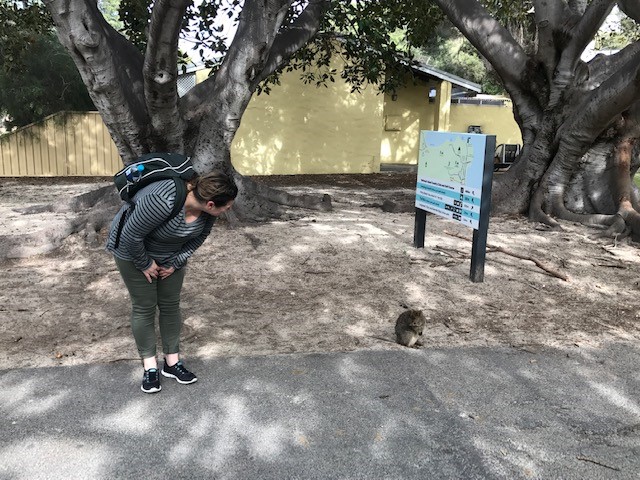 My inspiration to travel to Western Australia derived from an Australian cooking-travel show 'Surfing The Menu', where they showcased the natural beauty and diversity of this spectacular coastline. Being fortunate to have experienced some stunning scenery and towns around the world we wanted to see what was on offer in my own 'backyard'.
A week is not nearly enough to explore the vast area of the west so I decided for my first endeavour to concentrate on a few places.
It was early September and we flew into Perth, took a taxi 20 minutes south to Fremantle, a place with so much to offer. In a few short days you have time to visit historical sites and museums, enjoy the outdoor markets and street vendors, purchase something special in the unique and eclectic shops and galleries, try one of the local craft beers and of course take a trip to meet the cute mini marsupials, the famous 'quokka' on Rottnest Island.
We stayed in the historical Esplanade Hotel, perfectly situated in the heart of the town, walking distance to the wharf, markets and loads of restaurants and bars. The mornings were glorious, the ideal time to walk and discover. We would walk for hours and finish with breakfast in one of the classic cafes. We loved Duck Duck Bruce, and Canvas at the Fremantle Art Centre. During the day we visited the markets, shops and galleries whilst soaking up the atmosphere with the visitors and locals viewing street artists and musicians. Wanting to see what else was on offer in this area, we jumped in a cab and headed to Cottesloe Beach for lunch and drinks overlooking the water in the saloon bar of the Ocean Beach Hotel, loads of fun on a Sunday afternoon.
I would have to say one of my highlights of this short stay in Fremantle was the trip to Rottnest Island. The short ferry ride was easy and on arrival we had options to either take a bus or a bike to see the island. We opted for the bikes and set out to discover this little island (only 11kms long and 4.5kms wide). It was full of easy bike trails. We did discover self-catered accommodation along the way for those wanting an ecofriendly getaway. The town does have a supermarket and eateries making it very easy. Beautiful beaches, marine life, bird life and of course the quokkas, they were so cute and surprisingly not bothered by the number of strange humans taking multiple photos. I spent ages sitting watching a peacock perform until it was rudely interrupted by a quokka who wanted to share the limelight. The peacock was most upset, and not happy to share creating an entertaining showdown between them, an experience you would not get to see anywhere else in the world.
The next day we hired a car and headed further south to our home base for a few days in Margaret River.  The town itself is full of great restaurants, a couple of lively pubs and great little shops and galleries to discover.
We drove out to Smiths Beach and Yallingup; this was the scene that had inspired my trip. The coastline was as spectacular as I imagined. We drove from beach to beach, jumping out of the car to walk on the sand, grab a photo and a warm cup of coffee. September is still quite cool and with the sea winds it was not a time for sunbaking or swimming. It was time to sit for a while and take in and appreciate the beauty. We had an opportunity to walk around the areas of Cape Leeuwin and Cape Naturaliste, incredible. This is an area I want to spend more time in, we only scratched the surface.
Most of us would know Margaret River for its wines and choosing which wineries to visit is no easy task, there are loads of them. Fortunately, the Margaret River tourism site offers a regional map showing the wineries with cellar doors and you can sit and plan your day. Some offer casual cafes for a bite to eat whilst others offer more formal lunch in fine dining restaurants. Plenty of choice for all. As I like a sweeter wine and rosè I wanted to visit Stella Bella, where I spent my budget for the day, and they organised to send my purchases home to Melbourne for me. We had a wonderful day of wine tasting, cheese platters, home made pizzas and driving through the picturesque areas of the region.
Closer to home in Margaret River town is a gin distillery called Giniversity. This was a great place to learn a little more on the history and making of gin and sample a few of their offerings using local botanicals. You may need to book as like most places in the area they can be very popular.
We headed back to Perth and stayed on the river at the new Crown Complex, a great area right on your doorstep to walk off the kilos added from the last 6 days' eating and drinking fest. The hotel is luxurious and has many options for eating, drinking and entertainment. We decided we'd walk a little further from this complex to see what Perth had to offer and discovered a recently built waterfront area. It was a beautiful afternoon and we sat out on the water terrace at 'The Lucky Shag' for lunch, it's a great view and lovely experience on a sunny day. The city of Perth felt like a country town compared to other cities we had visited but from first sights seems to have so much to offer. As time was short like all trips we need to leave something for next time.
Want more Australian adventures? Click HERE