Vomo Island, Escape The Trappings Of Day To Day Life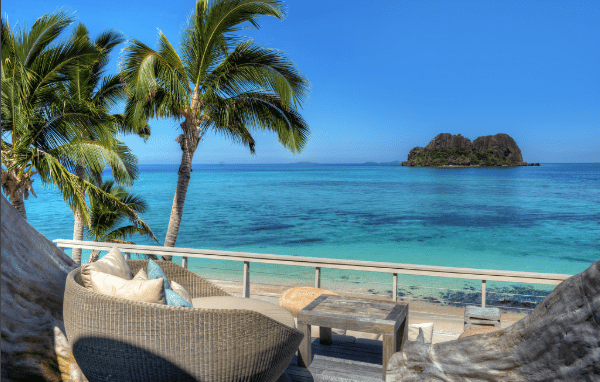 Forget about work, traffic, shopping and cooking for a few days and truly relax and unwind in a little corner of South Pacific Paradise. This stunning property located on a privately-owned island is an upmarket boutique resort fringed by white sand beaches and clear blue water. Both Vomo and neighboring Vomo Lailai, are surrounded by tranquil, turquoise waters that just beg to be explored. Add to this the picture-perfect palm tree lined sandy beaches and the endless blue skies and you have all the ingredients for the perfect island getaway.
Its contemporary designed villas, extensive guest facilities, fabulous kids' club and incredible attention to luxurious detail make it popular with discerning families. Comprising of 28 luxury villas and 4 luxury holiday residences, Vomo provides some of the most luxury accommodation in Fiji, accommodating families with various options from interconnecting beach villas to beach front holiday homes with great snorkeling directly off the beach. The Vomo Residences – Nestled within Vomo Island Resort reside four beautifully designed luxury beachfront holiday homes – far enough away from the main resort common areas to enjoy seclusion without missing a moment of what Vomo Island Fiji has to offer for a memorable holiday.
Emma was fortunate to have experienced the 4-bedroom residence on her last stay at Vomo. – "It was incredible, I felt like a celebrity. We were told that Elle McPherson and her family had just stayed there. It was like our own holiday home directly on the beach. Four beautifully appointed bedrooms, a large kitchen, dining, living area leading out to a massive deck and outdoor kitchen and dining area. It was amazing. We had complete privacy, but able to join in the activities and use the facilities of the resort as well. The highlight for me was the Rocks Bar, located at the western tip of the island. It's an adult's only environment and quite possibly the coolest bar in the South Pacific. It's wonderful for a sunset drink. Each meal was better than the last, it was like eating at some of Melbourne's best restaurants every meal, fortunately we had mini golf, a walk to the top of the hill, water sports and a large enough island to walk around to burn off some of the calories. What I love about Fiji is that parents can have a true holiday as well. I remember the first time I was there they were building the kids club. The managers had small kids that lived on the island and really understood what families needed on a holiday. I knew once they had the kids' facilities sorted this would be one of the most luxurious family resorts in the islands. The Fijians are so wonderful with children from babies through to teens. Both parents and kids are able to have some independence and then join back together at meal times to share stories of their exciting day's activities. Vomo is a truly beautiful resort and has a relaxed atmosphere. I really recommend it to families with younger kids, there is so much to do and they are made to feel so special." 
The resort features a 9-hole par 3 golf course, floodlit tennis court, well equipped gym, Spa, and a myriad of water sports to keep the most active guests of all ages entertained. The Kids Village is open year-round from 10am to 9pm and is complimentary for all guests to use.  This state-of-the-art facility is air conditioned, has soft floor play areas and quality toys, craft room, media room with individual bean bags, outdoor play area and climbing equipment, plus their own 'restaurant' facility, which operates with dedicated Chef and children's menu, providing a dining experience that can be enjoyed by all children 4 and over, or with supervision for children under 4 years of age with a parent or a Baby Butler ($ hourly fee).  A Great Children's menu provides a la carte options to suit all palates and special dietary requirements can usually be catered for.  Children may also dine with parents at regular meal times in the main restaurant.