Escape Melbourne Winter to the Top End of Australia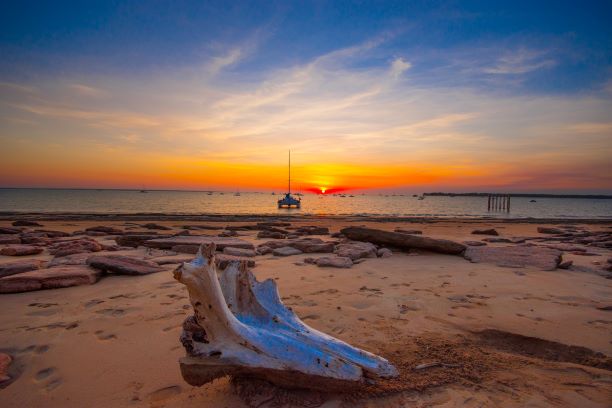 Have you seen the ads for new Australian movie Top End Wedding? It's really created a buzz around the Northern Territory and watching the movie reminded us how much we love visiting.
With direct flights out of Melbourne, Darwin is a great destination to escape those chilly winter days for a short break. Darwin has so much to offer those wanting an injection of Vitamin D with a range of activities on offer around its waterfront precinct. Enjoy many of the cafes and bars or even finish up the day watching a movie at the local Deck Chair cinema. Bike tracks have been set up along the waterfront which offer a lovely ride, and you can stop off and join the locals picnicking by the water.
The city itself is full of history. The East Point Military Museum offers you the opportunity to walk through the bunker learning about the Top End defense strategy and view footage from the bombing of World War II.
For horse racing enthusiasts July/August is a must with Darwin Cup Carnival. Days of fun at the racetrack as well as events over the carnival. The city is alive and it's a fantastic experience. I attended the carnival a few years ago and went to the Gala ball on the Saturday night, over 2000 people in black tie under the stars listening to music was quite the sight. The year I attended Human Nature flew out from Vegas. It was a fantastic balmy evening to dress up and everyone had a great time dancing the night away and witnessing the most spectacular fireworks display.
Extending your trip gives you the opportunity to take in Litchfield National Park, cruise Katherine Gorge and explore the beauty of Kakadu National Park. There are plenty of options for tours out there that we can organise, it really is worth a few days if you can make the time.
If you are looking for a long weekend or a week getaway, Darwin and the Top End will certainly warm your bones this Winter. Have a chat to us about options to plan your next getaway.
Discover more Winter Escapes HERE