Delightful Daylesford
Thursday, May 28, 2020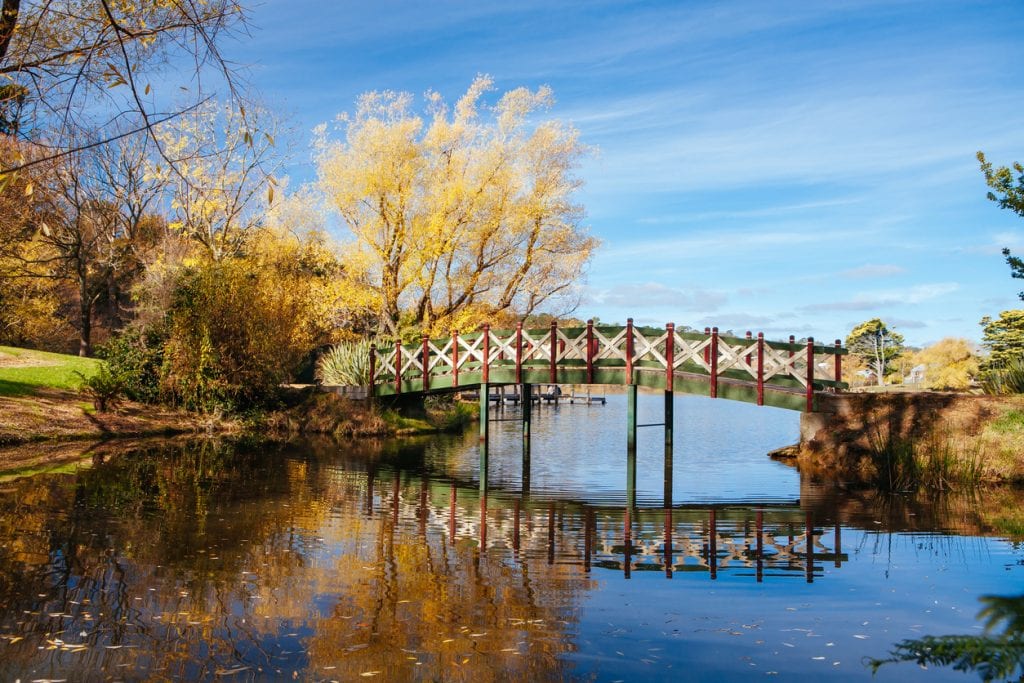 For my 50th Birthday celebration, my husband & I went to Daylesford for the weekend. Daylesford is about an hour and a half North West of Melbourne and located between Castlemaine and Creswick. It has Australia's largest concentration of natural mineral springs with a huge industry built around physical and spiritual wellness including spa treatments, massages and acupuncture.
We stayed at the Central Springs Inn on Camp Street, which is just behind the main strip of shops. Our Heritage King Room had an open fire and was in the Heritage part of the hotel.  After checking in and dropping our bags in the room, we went for a walk around town to explore the area. The main shopping strip is on Vincent Street and is home to lots of great restaurants, cozy cafes, boutique shops, pubs, galleries and even a cinema. Daylesford is a foodie heaven. Locals and tourists walk the streets with a relaxed atmosphere looking for a good place for a coffee or deciding where to have their next delicious meal.
Being my birthday, I decided having a massage was a lovely way to spoil myself. I booked a session at Eko Spa Treatment which was down the road from our hotel. Walking through the flower filled garden leading to the cottage style house was a relaxing start to my massage. After an hour of being spoilt, I felt like I was floating on air.
Deciding where to go for dinner was challenging because there were SO many lovely places to choose from. The Lake House is known for a fine dining experience and the Farmers Arms Hotel had good reviews but was a short drive out of town and as we wanted to be able to walk to dinner we decided on the Taj Mahal Indian Restaurant also down the road from our hotel. Being a converted house, the Taj Mahal was like having dinner at a friend's home, with different rooms to seat many group sizes and there was even an open fire for the cooler nights. The food was some of the best Indian we have had in many years, with generous portions, fresh ingredients and friendly staff, we will definitely be back next time we are in Daylesford.
Besides great food, lovely shops and relaxing spa treatments, Daylesford has many things to do and see.
The Daylesford Sunday Market is held at the Daylesford Railway Station every Sunday from 8am till mid-afternoon with lots of local produce on offer and many secondhand stalls to browse through. The local Primary School in Vincent Street hosts a Farmers Market on the first Saturday of each month from 9am till 1pm, with fresh produce direct from the local producers in the Daylesford area.
Hepburn Springs is a 10 minute drive down the road and Kyneton, Castlemaine, Maldon, Ballarat & Hanging Rock are less than an hour drive, so there is plenty to keep you occupied during your stay.
Lake Daylesford is a short walk south of town with the Boathouse Cafe overlooking the water.
Besides the many things Daylesford has to offer, they also host a few popular Festivals throughout the year:
Lavandula Festival in January – celebrating the lavender harvest
Chill Out Festival in March – largest Gay & Lesbian festival in Regional Australia
Swiss & Italian Festa in October at Hepburn Springs
Budburst Festival in November – wineries and restaurants open to celebrate the local produce
Daylesford Highland Gathering in December – celebrating all things Scottish
Spending the weekend in Daylesford was a wonderful experience and we went home feeling refreshed and relaxed, making plans for our next visit, possibly with the kids. Or maybe not.
Craving more Aussie escapes? Keep reading HERE
Back to Stories