Aloha Oahu – The Perfect Stopover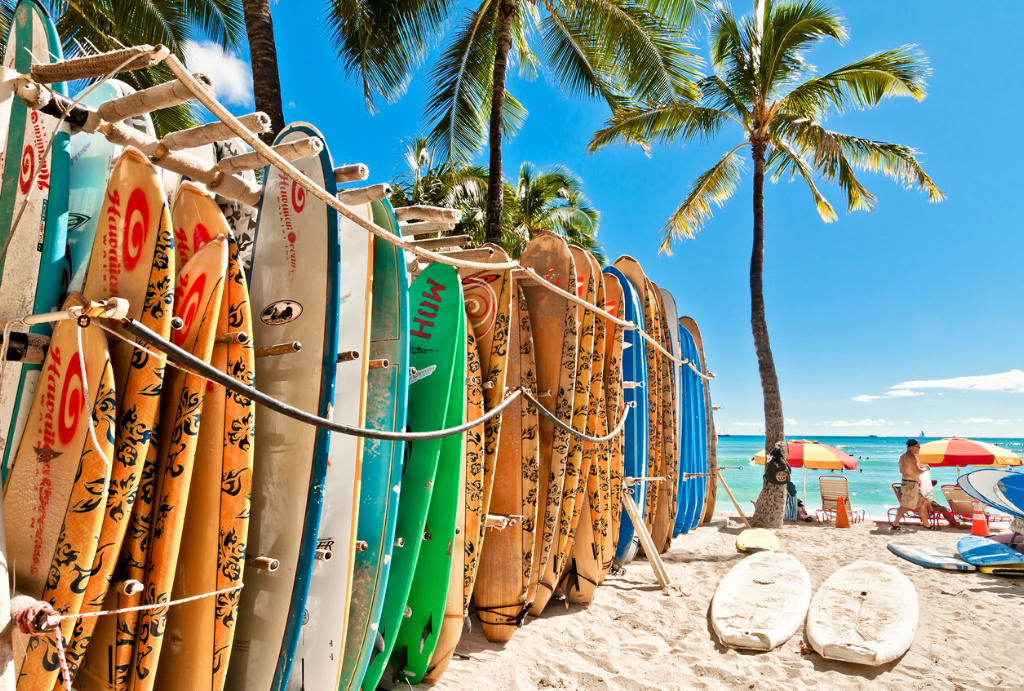 Looking for the perfect place to stopover on your way home from the USA? Hawaii's capital, Oahu ticks all the boxes. Breaking the long flight with a few days of sun, surf and shopping in Waikiki is a popular request especially for those travelling in the USA in winter months. With Hawaii's all year-round temperatures between 20 – 30 degrees, you can trade your puffer jackets and long boots for your shorts and sandals.
Where To Stay
Halekulani is a favourite. Located on the beach at Waikiki, this oasis of luxury is the perfect place to chill out for a few days. La Mer, the hotel's signature restaurant serves neoclassical French cuisine earning many awards over the years. The Halekulani spa is voted no 2 in the country. The gardens and the orchid pool sitting overlooking the beach is the perfect place to rest your weary feet after a few hours shopping at nearby Ala Moana shopping centre.  The specious guest rooms have an understated luxury, whilst their very popular Halekulani Suite, designed by Vera Wang, encompasses more than 2000 square feet of designer style overlooking the beach. I was fortunate to be hosted to a cocktail party in this incredible space to view it firsthand, WOW!
What To Do
Shopping
The two main shopping expeditions would be to Waikele Premium Outlets for a genuine bargain. Like all outlet malls it hosts a range of premium brands selling older stock, the great thing for Aussies is that we are generally the season behind so a great place to pick up some sale items going into our next season. You can grab a taxi or there are buses that take you directly there.
Ala Moana Centre is like an outdoor Chadstone. Full of shops, services, food courts, and restaurants. Many bargains to be found. Always check in before you go as they are known for their "big sales" at different times of the year.
The Polynesian Experience
The Polynesian Cultural Centre theme park and museum is a hit for families. All day you can see entertaining shows, craft demonstrations and exhibits. In the evening attend one of the best loved Luaus on the island at Paradise Cove, as well as their "breath of life show", a wonderful energetic production highlighting song and dance from the indigenous cultures.
Hawaii 5-0 Tours
If you are fan of the famous TV show from both the 70's and the recent production, then you can take a tour discovering the sights and locations made famous by the show. Check out the McGarrett home (known as Bayer Estate) or the view from Danno's favourite look out whilst being entertained by your guide giving you personal accounts of the actors, directors and producers. Viva holidays offers this tour as one of their sought-after experiences in Waikiki.
Pearl Harbour and the USS Arizona Memorial
Brush up on your American history with a visit to the Pearl Harbour visitor centre. Pearl Harbor is a U.S. naval base near Waikiki, that was the scene of a devastating surprise attack by Japanese forces on December 7, 1941, where hundreds of Japanese fighter planes descended on the base and  destroyed or damaged nearly 20 American naval vessels, including eight battleships, and over 300 airplanes. More than 2,400 Americans died in the attack, including civilians, and another 1,000 people were wounded. After learning more about this major moment in history you can go by boat to visit the memorial. Tickets are often limited so booking a tour will ensure your spot.
Where To Eat & Drink
Restaurants feature live music in genres like ukulele and slack key guitar, roots reggae and pop music by local performers, shops sell trendy products like artisanal island chocolate and reproductions of 1930s to '50s Hawaiian shirts. SALT at Our Kaka'ako is an open-air shopping and dining block with an artsy flair. Its past was an area of salt ponds and then a zone for wholesalers and warehouses, and the streets surrounding the mall are even more eye-catching, with street art painted by artists from around the world.
Head to Leonard's Bakery for the sugar-dusted Portuguese malasada, the lines are long but worth the wait. If donuts are your thing, another breakfast option is the Purvé Donut Stop, lots of interesting toppings, made to order.  If you enter from the rooftop parking lot, you can watch these being made fresh. Try some of their unique donuts THE "JIMBO"(Cinnamon Sugar Pounded into Caramel Apple Pie) or SMURF BALLS (Mixed Berry Glazed Teased with Captain Crunch & Cream Drizzle) or maybe "IT'S OK…CUZ IT'S YOUR DOG" (Peanut Butter Glaze Soaked with Raspberry Slobber), their extensive menu with a story to match each item is certainly a unique experience.
TIKI Bars
The Skull & Crown Trading Co is worth a visit. Open since June, Skull & Crown is filled with tiki- and horror-themed items, skulls and shrunken heads, fishing nets and buoys, pineapple-shaped lamps, large tiki idols, and even a mermaid sculpture.  Check out the unusual 'Awa 'Awa Mai Tai from its extensive cocktail list, made with Campari and served with crushed ice and a flaming sugar cube inside the half-shell of a fresh lime.
Across the street is Smith's Union Bar, which combines dive-bar atmospherics with kooky karaoke-lounge vibes and advertises itself as the oldest bar on Oahu, dating to 1934. Check out the memorabilia of this historic venue, known to sailors, and now known for its affordable drinks and friendly service.
Ask your travel designer to include a 36 hour stop over in Waikiki on your next trip to the USA or Canada, there is so much to see and do, or just relax with a swim in the beautiful beach and a cocktail at sunset, all of which this island is famous for.
Looking for more Hawaii inspiration? Click here
For further information on stopping over in Hawaii please contact us