A Week in Bali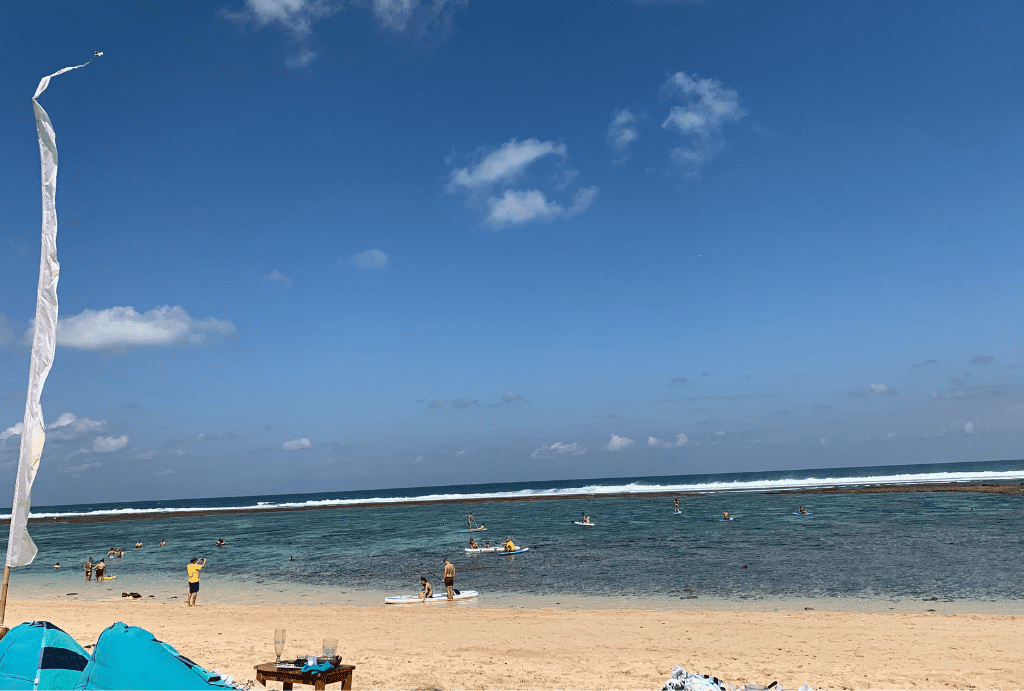 Bali is the perfect destination for a quick beach getaway, I recently spent a week in Seminyak with some of our closest friends to celebrate my partners Birthday.
We flew direct with Garuda on their morning flight and had a driver waiting to whisk us to the beautiful Hotel Indigo.  This resort is new and in a great beachfront location in Seminyak with their own beach club Sugarsands, where you can charge back to your room and enjoy a swim in the infinity pool with a beach view.  The resort was really funky with their quirky colorful chairs and hanging lanterns in the hotel lobby, however the design still had a Balinese flair.
The main resort pool was huge and ran along the middle of the resort towards the beach with a number of areas to lounge around and have a cocktail or two.  If you wanted some peace and quiet they also had a secret pool which was hidden away and often forgotten about.
We spent a relaxing week exploring the markets and boutiques around Seminyak and Legian with a massage or two thrown in along the way.  Each night we chose a different cuisine, some highlights were Motel Mexicola for a delicious Mexican feast and frozen Margaritas, and Mama San for yummy Thai food.  Hot Tip:  Pre book well ahead of time, these popular restaurants book out quickly, especially for dinner.
The beach bars scattered along the Seminyak and Legian beaches had a great atmosphere and we spent nearly every evening here to have a drink and watch the incredible sunset while relaxing on a bean bag in the sand.  Each night they would have an acoustic performer who would take requests throughout the evening, they all had incredible voices, and this quickly become my favorite part of our holiday.
One day we hired a driver to take us to Uluwatu (south of the island) and spent the day at Sunday's Beach Club.  The beaches in Uluwatu are beautiful with white sand, crystal clear water and surrounded by high cliff faces.  I almost felt as though I was in another country.  We had the opportunity to snorkel, kayak and paddleboard during our stay at Sundays, it was a great day out!  When the sun went down, we had dinner around the beach bonfires before being picked up and driven back to Seminyak.  The distance to Uluwatu was quite short however with traffic the journey did take almost 2 hours, best to get there early to make the most of your day in the sun and to secure a bean bag on the beach!
Bali is a wonderful destination with so much natural beauty and culture, it can really cater to so many styles of travel.
Want some more beach break ideas? Click here