Some of Our Favourite Uniworld River Cruises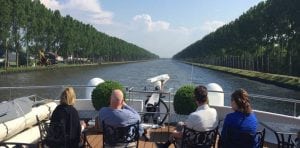 With so many river cruises out there, so how do you know that Uniworld will give you the river cruise that you'll be talking about for years to come? The answer is simple; ask the experts! We know because we go; our very own Kirk was fortunate enough to sail with Uniworld on their Castles Along The Rhine itinerary last year. Here's some of his feedback:
The ship was beautiful, the food outstanding as was the international wine list. Although day tours are included I used the ship's bikes each day to explore the towns and villages we were stopping in.
The most memorable thing to me was the crew and their attention to detail ranging from most of them remembering your name from day 2 to the last drink you ordered, you do feel very special!'
---
Tulips & Windmills | 10 Days
From $2,799 | Amsterdam to Antwerp

From the canals of Amsterdam to the belfry of Bruges, you'll discover the best of the Netherlands and Belgium on the River Queen. Stroll through colorful acres of tulips at Keukenhof Gardens to get a sense of the Netherlands' extraordinary connection to these blooms. Then visit the 19 UNESCO-designated windmills of Kinderdijk to better understand how these mighty structures have been used to protect the Low Country from ever-rising water levels for hundreds of years.
Burgundy & Provence | 8 Days
From $2,799 | Avignon to Lyon

A journey of exquisite pleasures aboard the S.S. Catherine. Follow in the footsteps of Van Gogh, Cézanne and Gauguin on this exquisite journey through southern France; the same beautiful countryside and culture that inspired the masters will now inspire you.
Gems of Northern Italy | 10 Days
From $4,059 | Milan to Venice

Uncover the extraordinary hidden treasures of Venice and Northern Italy aboard the River Countess. Encounter unforgettable sights on this odyssey that begins in Milan, home to Da Vinci's The Last Supper, and ends in legendary Venice, the "Queen of the Adriatic."
Bordeaux, Vineyards & Château | 8 Days
From $2,799 | Bordeaux to Bordeaux

Discover the proud legacy of one of the world's most acclaimed wine regions aboard the River Royale. From its noble châteaux to its breathtaking estuary, Bordeaux is an oenophile's paradise and every traveller's dream. Sail three stunning rivers; the Garonne, the Dordogne and the Gironde, on one amazing journey.
If you would like to know more about Uniworld's itineraries, unique ships or amazing sale prices have a look at our Cruise Portal